Chances are, you will consider taking some kind of medicine during your pregnancy. We know you want to keep your baby safe from potential harmful effects, and the best way to do this is to talk to your doctor. Right from the start.
---
Is this medicine safe to take during pregnancy?
Unfortunately, there is often no sure answer to that question. You're best bet is to talk to your healthcare provider. Here's some more information:
There are times that continuing to take medicine is necessary for your health

Other times, the risk to your baby outweighs the benefits of the medicine

Tell you doctor about ALL medicines you take, so you can make a decision together about what to do

Don't trust online information about "safe" medicines- always talk to a health professional
The Office on Women's Health offers a FREE helpline you can call M-F, from 7 am-4 pm for more info.
1-800-994-9662
---
More trustworthy resources:
The Center for Disease Control's (CDC's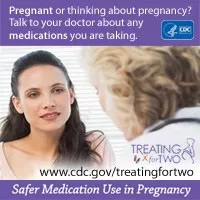 ) information on medicine and pregnancy.
March of Dimes information on pregnancy and prescription medication.
The Organization of Teratology Information Specialists (OTIS) provides information and fact sheets, in English and Spanish, on the risks and safety of taking specific medicines during pregnancy and breastfeeding. To speak with a MotherToBaby counselor about the safety of a medicine you have taken or you are thinking of taking, call 1-866-626-6847. This service is free and confidential.